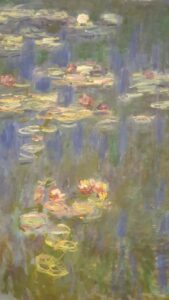 Discover in the Musée de l'Orangerie, Claude Monet's huge waterlilies and the Walter-Guillaume collection including masterpieces from Renoir to Picasso.
Located in the heart of Paris, in the garden of the Tuileries, the Musée de l'Orangerie offers visitors a poetic and artistic view of a very prestigious set.
Both monumental and intimate achievement, water lilies are the expression and the culmination of Claude Monet's artistic mind. Crazy project of an already old painter who wanted to explore all the variations of light in his garden in Giverny. Waterlilies are deployed in two oval rooms and they invite the visitor to an endless contemplation in a peaceful silence. In the aftermath of the First World war, Monet wanted his work to take both aesthetic and poetic dimension and provide shelter to busy Parisians, in a place suitable for peace and meditation. Monet offers here a kind of artistic testament.
Photo : H. Boncoeur