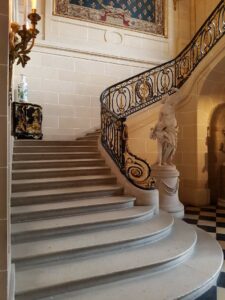 One of the hidden gems in Paris is the Nissim de Camondo Museum located in a private mansion near the beautiful Parc Monceau. The mansion belonged to De Camondo family. The destiny of this Jewish family is unique and very touching. Natives from Iberian Peninsula, but hunted by the Inquisition in the 15th century,  the family members moved to Istanbul where they founded a bank in the 19th century. Very prosperous in business, the family decided to return to Europe and settle in Paris, where Isaac and Moïse de Camondo erected two mansions in the very chic district of the capital near Parc Monceau. The architecture of the mansion designed by Sergent to Moïse de Camondo was inspired by the Petit Trianon of Versailles.
Collecting works of art was a great hobby for these wealthy bankers. Nissim de Camondo Museum is named in the memory of Moïse's son, Nissim who died in the First World War.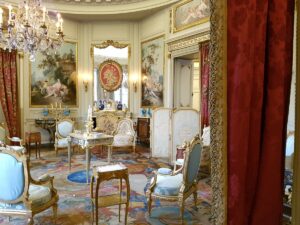 After this tragic loss, Moïse decided to create a museum in his home. The museum opened year after Moïse died, in 1936. During World War II, his daughter, Béatrice, his son-of-law Léon Reinach and their children, Fanny and Bertrand, died in the nazi camps. The Camondo family died out.
The mansion houses today, as an antenna to MAD *, a breath-taking collection of French decorative art from 18th and 19th centuries. You will also discover tapestries of Aubusson from the 18th century, paintings of Élisabeth Vigée-Lebrun, objects that belonged to Marie Antoinette, a collection of Sèvres porcelain and furniture designed by the famous cabinet makers Riesener and Oeben. With a great respect to this beautiful collection I will guide you through the different rooms evocating the family history, different type of furniture and objets d'art.
* Musée des Arts Décoratifs

photos: H.Boncoeur