Cheverny, Blois, Azay le Rideau, Chambord, Chenonceau up to Amboise, there are castles for every taste! A rich cultural heritage to discover ! 21 castles to visit!
Small ones and large ones, with or without furniture, we are in a region where each King, Queen or Lord wanted to show power and magnificence through grandiose constructions.
We are also in a vineyard region known for its light and fragrant wine that easily accompanies all your dishes: Bourgueil, Chinon, Vouvray, Muscadet, Saumur-Champigny… just a few names here mentioned! The vineyard road goes from one domain to another between houses and wine museums.
What about culinary delights, that were the joy of Rabelais characters in Gargantua: goat cheese, rillons and rillettes… thousand delights for the palate!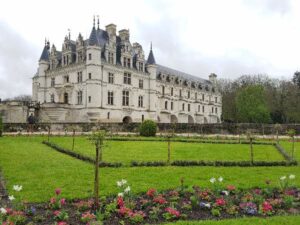 The Savonnières petrifying caves, in the heart of Touraine, few kilometers from the Château de Villandry, house very ancient galeries of "tuffeau", the Loire Valley's limestone. After our visit to the heart of the earth, a very interesting shop will offer petrified objects including a very nice "Cameo style pendant ".
Come and discover the Loire Valley! Its castles, history and gastronomy will seduce you and tempt you to come back soon!